LEAP (LGBT Employees At Penn)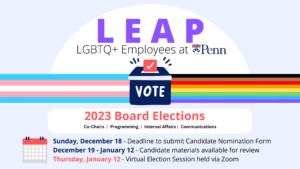 Mission
LGBTQ+ Employees at Penn (LEAP) is a group dedicated to the retention and edification of Penn's Lesbian, Gay, Bisexual, Transgender, and Queer employees of the University of Pennsylvania. This group is open to all staff, faculty, and postdocs, exhibiting a diverse range of interests at Penn.
Our goals are to:
Conserve a personal and professional network for all LGBTQ+ Penn employees
Support diversity initiatives at Penn, including recruitment, outreach, retention, and education on LGBTQ+ issues
Develop & sustain a relationship with the Philadelphia LGBTQ+ community
Research and advocate for improvements to policies that affect LGBTQ+ Penn employees
Alex Richardson, Co-Chair
Alex is one of four Associate Directors for Student Life in the MBA Program. In addition to his Associate Director duties, he is the administrative liaison for Wharton Conferences and social media initiatives. Prior to coming to Wharton, Alex was a Strategy Consultant at Accenture where he advised senior leaders of Fortune 500 companies on their most pressing talent and organizational issues. He has also advised the CIO of Dell on a vendor management strategy and, for 5 years, served as an admissions officer at Yale. There he served on the Steering Committee of the Yale LGBTQ Affinity Group.
Outside of work, Alex loves to play billiards and to travel whenever he can '" in the past year he visited the filming site of Indiana Jones in Petra, Jordan and the top of the Andes in Machu Picchu. Alex holds a Bachelor's Degree of Astrophysics from Yale University, and an MBA Degree in Information Management from The University of Texas at Austin (McCombs School of Business).
Kevin Haines, Co-Chair
Kevin works at Career Services with Engineering undergraduate and graduate students. He received his B.S. in education and Spanish from Penn State and his M.A. from Middlebury College. Prior to working at Career Services, he worked at Penn Abroad for 2.5 years helping send students abroad.
Robert Harris is excited to be involved with LEAP at UPENN! He works as a Library Specialist at the Chemistry Library. After receiving his bachelors in Musical Theater from Point Park University, he traveled the US performing/ directing/ and choreographing national tours and regional productions. Robert is very active within the union that protects the staff of the Penn Libraries. He serves as a steward and member of the executive board of his local, as well as a delegate to AFSCME District Council 47, the AFL-CIO, and the Coalition of Black Trade Unionist. In his spare time, Robert continues to be active in the Philadelphia theater community as a director, choreographer, and teaching artist as well a Barrymore Awards Adjudicator. Please contact Robert with event ideas for LEAP or to be added to our communications.
Tiffany Thompson, Internal Affairs
Tiffany, an Associate Director of the LGBT Center, has over 15 years of experience in sexual and reproductive health, homelessness, trauma, youth and young adults, and LGBTQ advocacy.  She attended Georgetown University's McDonough School of Business where she received her BA in International Business and Marketing, as well as a minor in Japanese.  Later, Sher earned a MS in Strategic Communications form the School of Media and Communications at Temple University.  She is an active board member of Philly Black Pride and a member of the planning committee for the Philly Dyke March where she coordinates the Dykes on Bikes.

Kim is an aspiring matelot-novelist and amateur watercolorist, daylighting as the Executive Assistant to the Vice Provost for University Life at Penn. The first in her family to attend college, she graduated from Rutgers University with a degree in French and minor in Turkish. Prior to VPUL, Kim provided administrative and translation work for a small machinery imports company, performed credentialing services and bilingual analysis of nursing curricula for a non-profit contracted by the Canadian government, and served as Administrative Coordinator for the Office of Fraternity & Sorority Life at Penn. She is also a member of the Philadelphia Ships Preservation Guild as a volunteer crew of the tall ship Gazela.
Outside of work, Kim likes to unplug by painting, knitting, composing piano music, and working on her novel in her apartment that has no television or internet (though she is big on the 'gram). She's super pumped to bring her geminesque personality to the LEAP team in the role of Communications Chair!