Embracing Intersectionality: Sean Massa
Awarded prestigious foreign diplomacy fellowship, Alumnus credits a sense of belonging found in Penn's LGBT Center, GIC, and Native communities.
Before Sean Massa (C'15) could apprehend the intercultural understanding needed to launch a career in foreign diplomacy, he first had to discover his own individual identity.
There was an immediate impact the day he set foot on the University of Pennsylvania campus. Massa began a journey into understanding his own self as a queer student with Native, Pacific Island, Latino, Asian, and Eastern European heritages — the intersectionality of his various identities.
Through acknowledgement of the different forms of discrimination faced as a diverse and queer student, Massa found a sense of belonging in University Life's cultural centers that helped him thrive.
"[Sean] got involved in everything. He was thoughtful and always interested in meeting different people and understanding their perspectives."
It is no coincidence that his personal exploration began on the steps of the Greenfield Intercultural Center. The GIC became a home away from home during his time in Philadelphia. Through inclusive spaces and programming initiatives, as well as relationships formed with Penn students from diverse backgrounds, the GIC made a particular impact on his personal development as a multiracial student.
"It's easy to feel like you're not enough of one thing or the other – you're not Latinx enough, you're not Asian enough, you're not whatever enough," Massa said. "The GIC people came from these vastly diverse backgrounds. No matter what you were, you were accepted, and you belonged. Not only that, but they also took that angle to other forms of identity beyond ethnicity, like religious identity or socioeconomic background."
Embracing his identities forged his passion for intercultural engagement and global affairs that shepherded his career path as a diplomat.
Massa graduated from Penn in 2015 with a major in Health and Societies with a concentration in global health and a minor in philosophy. He was a baccalaureate speaker, in addition to serving as a representative on the United Minorities Council.
Massa grew up in San Jose, Calif., a multicultural city that in many ways was a melting pot that was much like his own. He identifies as Mexican and Apache on his maternal side, and Japanese, Hawaiian, and Lithuanian on his paternal side.
Almost immediately, he was drawn to Natives at Penn, a student organization that represents indigenous students. On his first day on campus, Vanessa Iyua, former associate director at the GIC, handed him a Natives at Penn brochure and a Daily Pennsylvanian article on its annual powwow. In many ways, Massa and four other students were being handed over the leadership. Together, they rebuilt the organization, formerly known as Six Directions, from the ground up.
As co-chair, Massa advocated for the Native community on campus by promoting the recruitment and retention of Native American, Native Hawaiian, and Native Alaskan students, as well as connecting students, alumni, and allies in cultural awareness events. Natives at Penn reorganized a room on the third floor of the GIC that they could call their own space, complete with a library and meeting room. The organization hosted a campus powwow that celebrated traditional and modern indigenous culture with singing, dancing, music, food, jewelry, and clothes.
"We were a community," Massa said. "We looked out for each other. We came from different backgrounds – some of us came from reservations, but most came from the big cities."
His involvement expanded to a vice president position on the Ivy Native Council, a consortium of the campus organizations across the Ivy League. In that role, he learned from different indigenous groups and understood best practices for addressing certain issues facing those communities. Ivy Native Council met with the National Congress of American Indians to discuss the name controversy with sports mascots, specifically for the Washington football team.
Massa was also involved with the Penn LGBT Center. He was a participant in the LGBT mentorship program and co-chaired the Queer Christian Fellowship.
Massa's interest in global affairs was piqued by a unique semester-long study abroad opportunity through School for International Training's International Honors Program. He studied global health and community health in Vietnam, South Africa, and Brazil.
"That was a very pivotal moment for me in terms of getting that international exposure that I had not been introduced to before," Massa said. "It really changed my perspective upon coming back and then beyond Penn."
Director of the GIC Valerie De Cruz first welcomed Massa through his involvement with Natives at Penn and made him feel welcome in his first year. Like many minority students that arrive on an Ivy League campus, Massa, who also identifies as queer, felt imposter syndrome. Massa used De Cruz as a resource anytime he was processing issues of belonging or personal identity.
"She reminded me that I deserve to be there," Massa said. "When I felt unsure of my own kind of place in the Native community because I am an urban Native, as opposed to someone that grew up on a reservation, she reminded me of my value. She even encouraged me to come out even before I fully accepted who I was.
"She recognized that and nurtured me to fully and authentically be who I am."
De Cruz had the kind of warmth, attentiveness and caring that allowed her to listen to students in a way that makes them feel heard. In a lot of ways, Massa added, she saw through to the distinct parts of his identity.
Massa grew up in a conservative household and attended a private Christian school for most of his childhood. He took a course called iBelieve: Interfaith Dialogue in Action, a partnership between the GIC, Chaplain's Office, and the Graduate School of Education. iBelieve was an experimental seminar that took students from various religious backgrounds and fostered a dialogue about different topics ranging from conversion to interfaith marriage.
"Most students come to college with what they were raised to believe," De Cruz said. "Sean immersed himself in various interfaith groups. He expanded his worldview, and it allowed him to think how he would see himself in the world."
Massa credits Steve Kocher, Senior Associate Chaplain and Director of the Spiritual & Religious Life Center (SPARC); and Kathleen Hall, Associate Professor of Education and Anthropology, for providing a safe space to confront challenges to his own beliefs.
"That was eye-opening to me in terms of expanding my own worldview and my own understanding of what faith meant to me and my identity," Massa said. "In a lot of ways, I had grown up in a background that did not fully encourage me to be who I was."
He served as an upperclassman teaching assistant for iBelieve. Later, as a Penn alumnus, he continues to make an impact at the GIC by mentoring first-generation and low-income students.
Massa's experiences with the GIC provided him with connections to parts of his own identity that were disconnected to his Bay Area upbringing. He said he felt more grounded in his own Native identity through meeting other students from indigenous backgrounds. Before his sophomore year, he volunteered for College Horizons, a non-profit organization that helps Native American high school students prepare for college. Meeting Native Hawaiians that saw him as one of their own reaffirmed his own identity to his father's Hawaiian upbringing.hardddd
In February, Massa was awarded the Charles B. Rangel International Affairs Fellowship. Funded through the U.S. Department of State and administered by Howard University, the Rangel Fellowship is a prestigious pipeline program for diverse individuals that wish to pursue careers in foreign service.
As a Rangel fellow, Massa will intern with Sen. Dianne Feinstein (D-Calif.). He is excited about the congressional internship with his home state's senator because of her sponsorship of the Violence Against Women Act. Specifically, Massa said VAWA has several provisions that address violence against indigenous and native Hawaiian women.
Massa will intern with the State Department the following summer at a U.S. embassy or consulate abroad to gain boots-on-the-ground experience in Foreign Service. Upon his receiving a master's degree in May 2024, he will begin orientation to become a U.S. Diplomat, a five-year commitment at an international post in either a political or public diplomacy track. Massa hopes to advance democracy, human rights, and peace around the world.
"I've had a lot of time to reflect on what kind of career would best suit me," Massa said. "I realized I enjoy being abroad and navigating the daily challenges of being abroad through foreign languages, problem solving, and adapting. All those things make me come alive."
After graduating from Penn, Massa was awarded a Princeton in Asia fellowship to teach at Atma Jaya University in Yogyakarta, Indonesia, and he interned with the United Nations Information Centre and U.N. High Commissioner for Refugees in Jakarta. He received a Master of Arts in Religion at the Yale Divinity School and Master of Laws in Human Rights at University of Hong Kong. Through his LLM program, he picked up the knowledge and skills to promote LGBTQ rights throughout Asia. His dissertation analyzed the legacy of British colonial anti-sodomy laws' roles in propagating anti-same sex legislation throughout Asia.
His post-graduate experience has also helped shape his career path. At an internship with the United Nations Information Center in Indonesia in 2016-17, Massa met with a mayor to discuss gender empowerment initiatives in the only Indonesian province to practice Sharia.
He moved to Hong Kong in 2018 through a Yale graduate school partnership with the Red Ribbon Centre to conduct research on HIV and ethnic minority and migrant domestic worker communities. Sean also did pro-bono work supporting low-income Hong Kong students pursuing education opportunities in the United States, and he created health and well-being programming with R.U.N. for Refugees, an NGO that works with vulnerable displaced people.
Experiencing Hong Kong's political unrest movement related to a now-scrapped extradition bill has also motivated his aspirations to become a diplomat. Massa has seen Hong Kong's ethos change first-hand: its liberal institutions and values have diminished slowly. Political protests have all but ceased, and citizens are hesitant to speak out or voice their opinions. "It made me more aware of the values that the United States upholds and its platform in the world to promote these values and protect them when they are threatened," he said. "The more I've reflected on it, I wanted to pursue a career that would allow me to make a tangible change in that way."
Throughout June, University Life will celebrate Pride Month with stories and interviews of influential figures in Penn's LGBTQ community.
University Life Spotlights the Center's Own Xandro Xu
University Life, as part of its efforts to highlight the student experiences, has been publishing a series of "Student Spotlights." The LGBT Center is delighted to share that one of our Program Assistants, Xandro Xu, was invited to be interviewed. Xandro is a freshman, who, in addition to working at the Center, serves as Vice Chair of Education of the Lambda Alliance, tasked with organizing QPenn, Penn's LGBTQ+ week of celebration. Click here to read the full interview on University Life's website.
Common Ground: Dismantling Oppression Olympics
On Wednesday, January 29th, 2020, the LGBT Center and fellow collaborators hosted a discussion based program titled "Oppression Olympics: Dismantling Oppression Olympics" as one of the final events of the Annual MLK Jr. Symposium for Social Change coordinated by the African American Resource Center. The event brought together a varied audience of about 30 people ranging from Penn faculty, staff, students and Philadelphia community members.
Facilitated by LGBT Center Associate Director Malik Muhammad, the discussion that ensued was profound. The major principle guiding the conversation was MLK Jr's philosophy of "Injustice anywhere is a threat to justice everywhere." With this, Malik sparked a discussion focusing on the notion of the Oppression Olympics, the idea that social justice movements (namely the Black Civil Rights Movement and the LGBTQ+ Movement for this program) can not co-exist and must be pitted against each other.
Using intersectional frameworks and historical leaders like Bayard Rustin and Pauli Murray, participants were able to gather historical knowledge and prime examples of how folks can support multiple marginalized identities, many that overlap) at one time. Overall, the discussion lead to some beautiful moments of solidarity manifesting and community building. In feedback received, one participant mentioned, "I was blow away by the dialogue and the participants."
A special thank you goes out to Campaign for Community of the Penn Provost's Office for providing funding to support the dinner that was provided. It certainly added a great layer to the event. Someone in attendance even said, "People's faces were lighting up when the saw the many vegan opinions that were not just a salad." We're so grateful to have had the opportunity to collaborate with so many amazing partners to offer a much need conversation.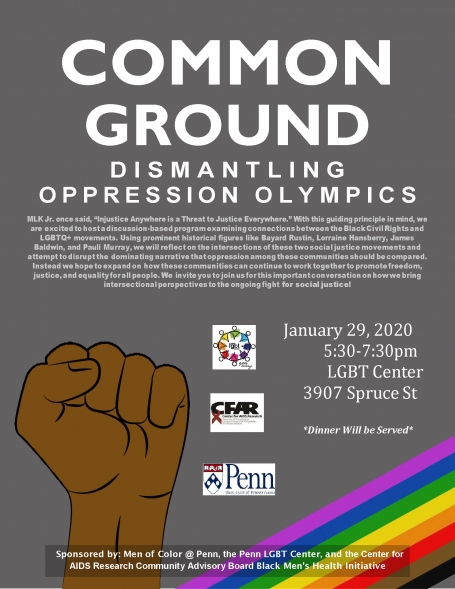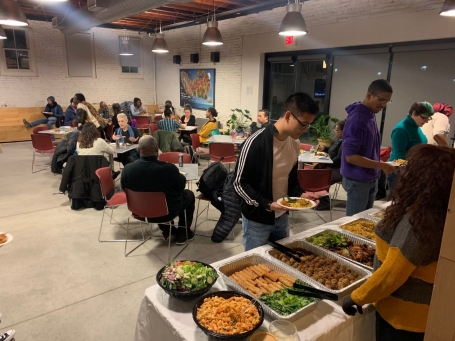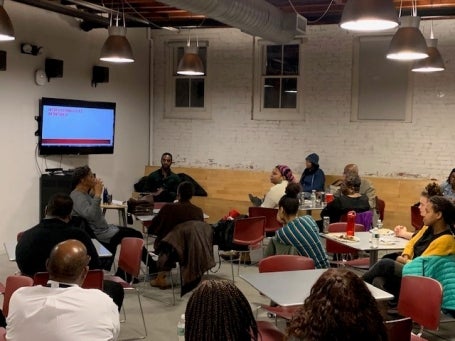 Solidarity NOT Appropriation/ Full-Metal IndigiQueer Residency for the Rev Martin Luther King Jr Commemorative Symposium on Social Change, 2020
During the Rev Martin Luther King Jr. Commemorative Symposium on Social Change, 2020, in January, the LGBT Center was honored to host the first of its kind residency with Joshua Whitehead and Demian DinéYazhi'. For two days, Whitehead and DinéYazhi' helped to facilitate dialogues around Indigeneity and social change as it relates to our current culture and movements of justice and equity.
On the first day, Whitehead and DinéYazhi' spoke with SP2 students enrolled in the Understanding Social Change: Issues of Race and Gender, and Whitehead read pieces of his fictional work at Kelly Writers House. Later in the afternoon, they had a meeting with the Dean of SP2, Sally Bachman, and held a casual conversation with Indigenous faculty, staff, and students in the Greenfield Intercultural Center. On the second day, Whitehead and DinéYazhi' read their poetry at a luncheon hosted by the LGBT Center, Greenfield Intercultural Center, and Penn Women's Center. DinéYazhi' then met with MFA students in the Fine Arts Department for MFA crits and later joined Whitehead, and Tailinh Agoyo, Director of We Are the Seeds of CultureTrust Philadelphia, for the Mark Gordon Lecture in the evening at Penn Law School.
The residency, titled, "Solidarity NOT Appropriation/Full-Metal IndigiQueer" was generously co-sponsored by The School of Social Policy and Practice, Annenberg School for Communication, Penn Dental Medicine, Penn Women's Center, Kelly Writers House, Graduate School of Education, Greenfield Intercultural Center, The Department of English in Penn Arts and Sciences, Gender, Sexuality, and Women's Studies, Alice Paul Center, The Sachs Program for Arts Innovation, Penn Law School, Penn Law Office of Inclusion & Engagement, Penn Law Native American Law Students Association, and Lambda Law of University of Pennsylvania.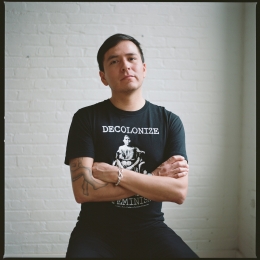 Demian DinéYazhi' is a transdisciplinary Indigenous Diné Nádleehí artist, poet, and curator. Their practice is a regurgitation of purported Decolonial praxis informed by the over accumulation and exploitative supremacist nature of hetero-cis-gendered communities post colonization. They were formed from their mother who is a descendant of sacred beings that came to emerge from this world through the holy act of migration and from a people ceremonially devoted to cosmological harmony and balance. They are a survivor of attempted European-inspired genocide, forced assimilation, White fear, sexual and gender violence, capitalist sabotage, and hypermarginalization in a colonized country that refuses to center their politics and philosophies around the Indigenous Peoples whose Land they occupy. They live and work in a post-post-apocalyptic world unafraid to fail.
Instagram: @heterogeneoushomosexual
(Photo credit: Kali Spitzer)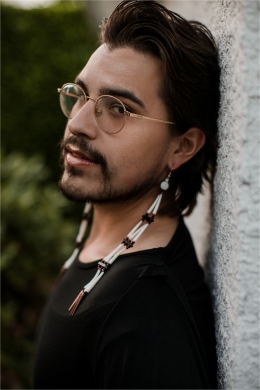 Joshua Whitehead is an Oji-nêhiyaw, Two-Spirit member of Peguis First Nation (Treaty 1). He is the author of full-metal indigiqueer and Jonny Appleseed. Currently he is an ABD doctoral student at the University of Calgary (Treaty 7) where he focusses on Indigenous literatures and cultures with a specialization in gender and sexuality. His forthcoming book, Making Love with the Land, a creative non-fiction manuscript that details Indigeneity, queerness, and mental health, is slated to release in 2021 with Knopf Canada.
Alumni Spotlight: Naomi Washington-Leapheart (she/her) C'04
What brings you back to be involved in the center?
I wasn't out while I was at Penn. I knew that I was something other than straight, but I didn't have any language to help me articulate how I could keep my faith commitments AND be Black AND be queer. I want to be involved in the center today because I know that there are students who feel like I felt. I want to support them as they try to negotiate identities that have been framed as contradictory. I'm a Black, queer, Christian minister. I exist. So can they.
What does the LGBT Center at Penn mean to you?
It's really amazing that the Center has pioneered the way for LGBTQ inclusion and radical hospitality in colleges and universities for so many years. I feel like it's part of my responsibility to make sure the Center thrives, and to make sure that the Center offers programming that resonates particularly with Black, Brown, and indigenous queer and trans folks — often, we're invisible, fetishized, or held in contempt in LGBTQ spaces. The Center can help to eradicate that.
Message from Loran Grishow-Schade
With graduation just around the corner, in a couple of months, I'm going to start receiving this newsletter rather than help to create it. I know what the Center can look like for students, faculty, and staff. Yet being an employee here has prohibited me from connecting — as a student– to other trans and queer students on campus. By being so connected to the mechanics of making sure the Center continues to enrich the lives of trans, queer, and intersex (TQI) folx, I've missed out on the opportunity to build a student community of my own. So, when I think about what I want to see in this newsletter after I leave, I think I have a different understanding of what makes the LGBT Center at Penn so critical to the lives of TQI faculty, staff, and students at Penn.
For instance, I bet you didn't know that there's a group of staff on campus — named "Student Name and Gender Working Group–devoted explicitly to supporting gender nonconforming, nonbinary, and trans (GNBT) folks in the logistical apparatus at Penn. Thanks to the advocacy of the Center we know that gender markers and names can be updated at Penn. But how does this technologically happen since Penn community members have to navigate multiple online platforms: WorkDay, PennInTouch, ApplyWeb, etc.? SNG-WG's (pronounced "Snug-Wug") mission is to streamline the entire process, so that–say– if you change your name in one system, do the other systems respond positively to that change? In having a non-binary sex marker, or "X" on all my legal documents, I have existed as a test-pilot to determine if Penn systems are physically ready to support nonbinary and intersex folx, in a technological world built of the binary code. I want to be updated to know that nonbinary and intersex folx can technologically exist on campus and aren't continually misgendered or missexed because of an archaic tech system.
The Center just applied for a grant to collaborate with the Fine Arts Department to update the art in the space, so it's more reflective of the populations we serve. Will the Center get the grant? Fertility treatments and adoption support still aren't covered under Penn's insurance plan. Erin keeps advocating in HR, but is the system of Penn ready to acknowledge some unique healthcare barriers specific to LGBTQIA folx? PennDOT will be rolling out "X" markers on IDs later this year for folx who want them. How will the Center support the Penn eco-system during this transition? Pennsylvania still only amends birth certificates, rather than correcting them, leaving GNBT vulnerable to outing. How is the Center contributing to this conversation in Harrisburg for Penn's community?
Maybe you've heard that Fresh Grocer on 40th and Walnut is closing its doors in the middle of March to make way for an ACME which will open later this year? What are students, faculty, staff, and West Philadelphia residents supposed to do for food and essential items while we wait for a new store to open? The LGBT Center is working with Penn First Plus (P1P), First Generation Low-Income (FGLI), and Greenfield Intercultural Centers (GIC) to make sure that food sovereignty on and around campus isn't compromised any further. I want to be updated to know that students and community members aren't having to miss meals because Penn's administration decided not to renew Fresh Grocer's lease.
After being the Social Work Intern at the Center for an academic year, I recognize that alumni want to hear about what has been accomplished so that they feel affectionate and supportive of their alma mater. However, it's so challenging to pause and talk about accomplishments when the next project or conversation doesn't allow for the privilege of reflection. This newsletter, as it currently exists, grants space to reflect, pause, and celebrate the small victories on the path towards equity and inclusion. Regardless of what the next social work intern will help this newsletter to become, I will know there's a whole world beyond that newsletter full of unannounced meetings and strategies to center TQI folx at Penn, in Philadelphia, Pennsylvania, and the US. So, when I start getting the alumni newsletter, and I see the "Donate Today" button while Sallie Mae is knocking on my door, I'm going to be thinking of the ways I can donate my time, skills, and knowledge I've amassed working for the Center. Or, to quote the most significant play ever written: "Nothing's lost forever. In this world, there's a kind of painful progress. Longing for what we've left behind, and dreaming ahead. At least I think that's so."
Alumni Spotlight: Lisa Doi (she/her) C'13
Towards the end of my senior year, I reflected on what Penn had given me and contemplated my new relationship to the school – as an alumni and donor. So as I entered this new role, I thought a lot about why and how I want to give.
In terms of why: I want to support the best of my own college experience. Penn was defined by relationships, especially with friends, faculty, and staff. These relationship built spaces on campus where I knew I belonged and where, through that sense of belonging, I could excel. At the LGBT Center, I enjoyed having a space on campus where I could convene non-LGBT student groups, bring in peers who may not have otherwise come into the building, and connect them to the resources of the center. Above all, I valued the support I received from other students and staff, especially Erin Cross, Bob Schoenberg, and Rebecca Schept. These are the relationships that defined my Penn experience.
On to the how: in a university like Penn, I know I am not, and likely never will be, a major donor. Nevertheless, I want to give in a way that reflects my values and maximizes my impact. I could give unrestricted dollars or broadly to the Penn Fund, but giving to the LGBT Center makes me feel like my gift matters – because I know the kinds of staff, programs, and services my gift will support.
As a student, it is often hard to conceive of Penn after you've graduated, but it is the crucial work of the LGBT Center staff to make the Penn we experienced and the Penn that will come after us. When I was a student, the LGBT Center staff was in the early phases of making a gender-neutral restroom map and they were, as I remember it, essentially told it was impossible. Today there is a gender-neutral restroom map. These improvements, however large or small, are made because of the people who are at Penn for more than four years. Giving is how I continue to support their work.
A Letter from LGBT Center Director
Recently when people discover I have been at the LGBT Center for 20+ years, they are amazed and ask how I have done it. My response is usually, "Change. Changing students, needs, campus situations, and societal views have enabled me to reinvent myself despite the Center's mission staying the same. It is the only way to truly serve Penn's LGBTQ+ communities well."  2019 has been no different in that it was full of change for the Center, including but not limited to:
The departure of Associate Director Tiffany Thompson
A record number of Townsend Fund grants given for students making a gender transition
Release of the Center's first Faculty Out List
Hiring and training a graduate student and alum Hector Kilgoe to catalog the Center's Archives at the Kislak Center through the Schoenberg Archive and History Fund
Increased outreach to, and collaboration with, graduate and professional students
Opening of Penn's first public all gender, multi-stall restroom in McNeil, with a few more slated to go live in summer 2020
For the first time ever, the Center worked with all 12 schools in some capacity
Assistance for students to go to conferences
(Soft) launch of our new 'Alumni Out Loud' series over Homecoming to better connect alumni with current students via their personal stories
More arts-focused and community collaborations
And these are only a few of our initiatives to ensure LGBTQ+ voices are heard, needs are met, and our Center continues to be a welcoming safe and brave space where everybody can bring their full selves.
One thing that has not changed, however, is my thanks.  Thank you to our on- and off-campus collaborators, work-study staff, and our professional staff (Malik, Sam, and Loran), but also my deepest thanks to YOU.  We could not do this vital, ever-changing work without you, our friends and supporters.  So, thank you again on behalf of the Center and all of Penn's LGBTQ+ communities.  We forward to your continued support.
With gratitude and wishes for a wonderful 2020
Erin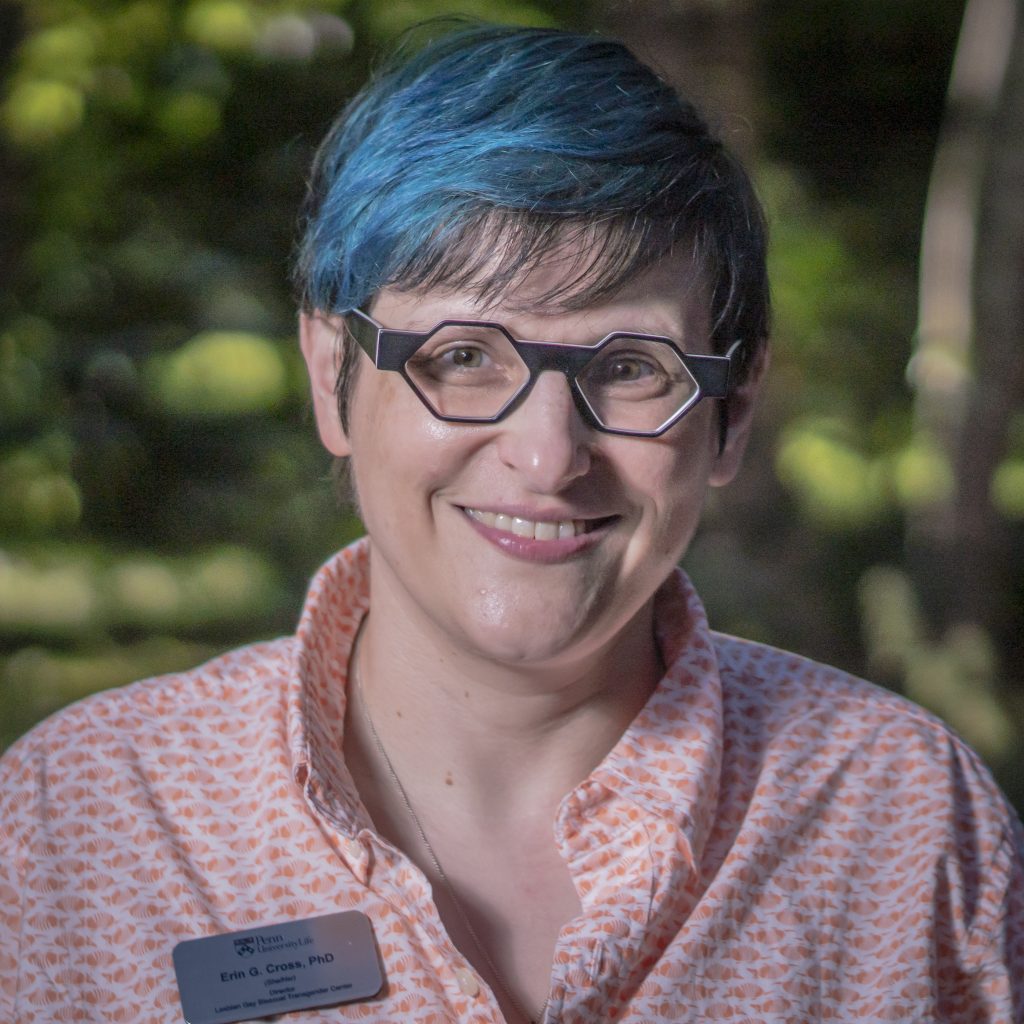 Special Thanks to Tiffany Thompson
A tremendous shout-out of thanks, gratitude, and solidarity goes out to the incomparable Tiffany Thompson for her impactful tenure as the Center's Associate Director from June 2017 –  August 2019.


Tiff was instrumental in building connections to the broader Philadelphia community with institutions like Mazzoni Center, Project Home, and Philly Trans March, while simultaneously focusing on the technological accessibility and environmental sustainability of the Center.


Thank you, Tiff, for all of the dedication and passion you brought to the Center! While Tiff will not be working with the Center directly, she continues to build upon queer and trans liberation within our collective work in social justice.
A new Associate Director will be announced soon!
Alumni Spotlight: Tom Wilson Weinberg (he/him), C '66, E '67
nterviewed by Briar Essex (they/them) SAS '19
Briar: Thank you so much for taking the time and making the trek back to campus!
 Tom: You're welcome!
 BRIAR: So, you are an alum of Penn?
 TOM: I am yes.
 BRIAR: May I ask when you graduated?
 TOM: I graduated from my undergraduate in 1966.
 BRIAR: Good for you! Do you come back often?
 TOM: Yes, pretty often. I love the campus, and I do come here for programming sometimes. I was here more than usual over the past year because of the Whitman at 200. It's easy, I can walk here. I haven't been a very good alum. I hadn't been to a class reunion until my 50th [laughs]…
 BRIAR: Well, I feel like that's one of those things where, when you live in Philadelphia…
TOM: Right. I could have won the prize for the person who traveled the shortest distance. But I really was touched by the reunion and did see people I hadn't seen in years. And my connection with Penn over the years has been through Mask and Wig.
BRIAR: Sure!
TOM: I was in it as an undergraduate. I was in their shows. I wrote songs for them. Then I had a leave of absence for about 40 years because I came out. I was on the Board, but the chairman of the Board asked me to resign. There had been an article about the opening of a bookstore called Giovanni's Room. Two friends and I started it in 1973, and the Inquirer ran an article that included our pictures, and it made the old Mask and Wig guys pretty nervous. The attitudes there have changed completely. But at the time, they were very sensitive about being thought to be gay, because the whole humor of the reviews is men dressed as women. Still, they have to be sort of obviously masculine. Non-Binary men had to make fun, dressing as women. But then some years later, a group of undergraduates, 7 openly gay graduates, got in touch with me and asked me to rejoin, which I thought was very sweet. I had to think about it for a while because, you know, it was a sad and nasty moment.
BRIAR: I can't imagine.
TOM: But then I did come back, and I did begin writing songs for them again, so that's a nice connection with Penn for me.
BRIAR: I think it's, in a way, sort of strange for me. I think some of the people you are in Wig, who have heard your story, who would not be surprised because they know the alumni board very well. But for so many people who are in Wig now, it has really changed extraordinarily into something positive.
TOM: Oh, yeah, I would not have gone back [if it had not changed]. When it was started in the late 1800s. 1889 maybe? I can't remember. It was for white, Mainline, Protestant, boys only, and my father and my uncle both went to Penn. They knew I wanted to be in Mask and Wig, and we are a Jewish family. My father and my uncle said, "don't get near it because you're going to be disappointed. They don't take Jewish kids." That had already really changed by the 60s. They did take me. I wasn't the first, too. I was maybe the third. [laughs] Then, over the years has become racially diverse. Gay kids can come out. The only thing that they're still not acceptable in the Mask and Wig Club is women.
BRIAR: It's also been interesting to hear people talking about how to navigate that and how to navigate that in a responsive way that does move with the time but also gives credit to Bloomers and the work that they're doing.
TOM: When Bloomers came on the scene, which was not that many years ago, that kind of gave Mask and Wig a little bit of coverage, you might say. I think a lot of people understand that that's the history, the culture, of it. Bloomers is all women. Eventually, Mask and Wig will have to deal with a trans person who comes to audition, and we'll see how they handle that.
BRIAR: I will say that I don't know many people who are in Wig at pre
sent, but my sense of the people who I know and love will be, like, "all right, it's 2019. It'll be 2020 when the next audition cycle happens. Can you sing? Can you tap dance? Great! Let's go!"
TOM: I think it will be that way. I know so many of the undergrads now, and it's a good group. Even the straight white guys are not threatened by differences. I think it will be okay.
BRIAR: You said that you were not a very good alumnus, but as I understand it, you were one of the people who were very, very influential in creating the space through donations.
TOM: I would like to say, "yes," but it's really not right. I see my name on the plaque on the wall downstairs, and my husband and I did make a contribution, and we knew Bob Schoenberg for many years. I would like to claim responsibility for a lot of things, but not the Carriage House. I was busy with Giovanni's Room, The Attic Youth Center, the William Way LGBT Community Center. I would take some credit for helping those things along the way, but here? I like this facility, and I'm glad that it has prospered, but I cannot take any claim for being a founder or anything like that.
BRIAR: So then can I ask you about Giovanni's Room? Because that's a space that I love. Over the summer, I was in a book group called Reading Queerly, which met and Giovanni's Room, and it was very cool. You know, did we really talk about anything? No. But we did have really cool moments of collectivity and connection, which was amazing.
TOM: I was really just more or less getting involved in the political– the Gay Liberation movement was so small and new. I think we started Giovanni's room four years after Stonewall. Actually, in Philadelphia, they were very few venues, very few places where people could go other than gay bars and a couple of bathhouses. Those are fine. The bars are fine. Bathhouses are fine. In general, a laid-back atmosphere didn't exist. So two friends and I thought that we would start a queer bookstore. The only one that we knew of was the Oscar Wilde Memorial Bookstore in New York, which is now gone, but I think it was started in 1967, so a few years before Stonewall.
The owner, Craig Rodwell, was at Stonewall. He was a dynamic leader of the movement early on. He helped us tremendously! He was extremely generous with his time; helped us choose our inventory. We found space on the 200 block of South Street. It was hard to get a realtor to rent to us because there were no protections at that time and because we wanted to tell any realtor or the owner of the property what we were doing– we didn't want to surprise them– we said, "we're opening a gay and feminist bookstore." A lot of our first attempts were met with an owner who didn't want "that kind of business," but eventually we found an owner who said, "yes!" We were at 232 South Street, and we were a little nervous about getting a rock through the window or something. That never happened. The neighbors, the people, the businesses down there welcomed us. Sometimes after school, teenage boys would run in the door and giggle and point and laugh and then run out. That's about the extreme harassment. [laughs]
BRIAR:  [Sarcastically] Oh, no! What's going to happen? [laughs] Nothing. [laughs]
TOM: Right! So, that was the early Giovanni's Room.
BRIAR: I also think it's interesting that you and your friends identified a need for spaces that were not bathhouses and bars. Yet, here we are in 2019, and if you go to the gayborhood, you have Giovanni's Room and Bars. That's still kind of it. A lot of people of my generation, who are also conscious spaces, acknowledge that this doesn't leave a lot of spaces open for younger folks who…
TOM: Excuse me for jumping in, but the William Way Community Center and The Attic are a few other places that are safe spaces for young people.
BRIAR: 100%! And I think the programming that goes on in these spaces is phenomenal. Learning about The Attic Youth Center, I went my freshman year, and I hadn't been connected to many parts of the broader queer culture of any kind and learning about that and thinking, "Wow! That is really cool that this place exists as a distinct specificity. The more that I sort of think about these things, I surprised at how few and far and in-between they are: LGBT centers whose mission is to serve LGBT youth. Philly is doing, well obviously everyone could do more. And you mentioned that you were involved [at The Attic] as well?
TOM: I went as a volunteer, and I was there for about 10 years. I have facilitated music groups and writing groups. The youth could write about anything they wanted. In terms of music, I brought a keyboard with me, and they would play, and we would sing. Some of the young people had guitars. It was great fun. Then I was asked to be on the Board, and I did it, and I regret it because it was more fun devoting time to the youth than to have a lot of meetings! [laughs] But, that's the way it works. I still have ties with some of the young people. At the Indigo Ball the other night– the William Way fundraiser– there was some Attic youth who are now not youth anymore. It's always fun to run into them to see what they are up to.
BRIAR: That's fantastic! One thing that can be so impactful is seeing somebody who is older than you are who are doing cool things, who is filled, who is either like "aggressively normal," or doing incredibly cool things. Granted, I don't know you that well, but I was given a link to your website, which says "father of two. An alumnus of Penn." In 2019 these are more "normal" and doing Oscar visits Walt. I think this is a wonderful combination.
TOM: I'm lucky. I like what I do, and I love the way that we create our own families. I'm fascinated by that, ever since we became involved in our family. I think it's so creative that we have our own definitions of family. A lot of people are not ready for it, but they'll have to get used to it.
BRIAR: I think what has been cool to be in the middle of, with my generation, is people being like (A) what the definition of normal is? But also (B) why are we trying to be normal?[laughs] Why do we feel this affinity to ascribe to this?
TOM: "Normal" is only majority behavior. "Abnormal" is somewhat of a bad word, but…but I think abnormal works, too.
BRIAR: I like it, too [laughs] So, you started off in Mask and Wig, and then you went off and did some cool things with theater and music, and now you're bringing it back to Penn.
TOM: That's true. I'm really excited about doing this on the campus. Most of my shows are downtown. William Way is my home base, but I have done shows in many other places as well and in other cities, but for the opportunity to bring a show to my dear old campus? I'm delighted. I hope the word gets out, and a lot of people come: students, staff, and faculty. One thing is that I haven't really known how to connect with this population. We had three performances downtown, and we were sold out, and we know how to find our audience in Center City. I don't know if people seem to think that crossing the Schuylkill River is like Crossing into another country.
BRIAR: I agree there are far too many people at Penn who don't want to cross the Schuylkill River I think this is a wonderful opportunity to look and say, "Hey! It's not that hard."
TOM: I had actually been thinking about doing the show with this theme. Some of my recent shows have been cabarets. So, it's music: some of which I write myself, but we were also singing other things
that we think are relevant. We always have some sort of a political bent a topic
BRIAR: [laughs] I can imagine. The person is political.
TOM: We built the show around issues. The show that we did a year ago last October was about lying: truth and lying. There were nine people, including me, in the show, and it was one of my favorite shows. After the show, there was a little party in the lobby of William Way and a woman that I've known for a very long time let me know about this festival: Whitman at 200, the celebration of his birth in 1819. She asked me if I would submit a musical theater piece, and I had already been thinking about this. I knew in my research that Oscar had met Oscar Wilde twice in 1882. Wilde came to the United States for the first time when he was 27. He hadn't really published anything of note, and he was famous for being famous: a celebrity in London. Everyone wanted him at their fancy parties, so he came here on a lecture tour. He started in New York, and then when he got to Philadelphia, which was his second stop, he wanted to see Whitman, who was living in Camden. They brought him over to Whitman's little row house, and they had a two-hour visit, just the two of them. Then Oscar went off on his tour, and 5 months later, he was passing through Philadelphia again and asked to see Walt again. So, they had another visit. A lot of people have written about those visits, but it's all speculative because nobody was there but the two of them.
BRIAR: That's fantastic! I think it's that whole troupe of "two best friends who live together until they die" [sarcastically] Weren't they such good best friends? That's the thing that I've seen a lot, mostly between two women: this sort of refusal to acknowledge [queerness]. Of course, we're speculating now, but it's so much fun! [laughs]
TOM: I've realized early on that they were just going to– even though there was a big age difference Whitman who was in his sixties and Wilde who was in his twenties — immediately relate as two gay men in private. They were closeted even though Oscar was so flamboyant and really a gender-bending presentation of himself. Walt wrote all of that homoerotic poetry, but they didn't ever say they were gay. It's like you were saying about two loving roommates…
BRIAR: [Sarcastically] Who are together until death; such great friends! [laughs]
TOM: [laughs] And I realize that within this setting of their privacy that they could talk about anything they wanted, and do whatever they wanted to do. They would go back out into the world and once again not be able to be themselves in the way that they were. For Oscar, I think it was a rare opportunity to be in such an accepting environment. Though their values, their politics, their styles of writing are so different.
BRIAR: I remember reading The Importance of Being Earnest, and in a way, this is bizarre even to conceptualize. I remember reading The Importance of Being Earnest as a begrudging 15-year-old and then landing on Walt Whitman at one point. I think it's amazing to think about these two writers as even existing in the same temporal space at this meeting that happened– and that these meetings happened is a fact.
TOM: You know Oscar Visits Walt is free? It's free for undergraduate and graduate students.
BRIAR: Oh, that's fantastic!
TOM: But we do hope that faculty and staff will come and buy tickets because we do need to sell a few tickets as well.
BRIAR: [laughs] I can imagine why that would be? [laughs] paying creators for their work?! What happened to art for art's sake? [laughs] Before we leave this space, is there anything you would want to add if you couldn't leave this room having left anything untouched?
TOM: O My! [laughs]
BRIAR: I know it's an incredibly nebulous question.
TOM: From me, and my memories of undergraduate life– it was a different world. I came out in a secretive way. I mean, I came out to myself in high school, but I didn't really do much about it. As an undergrad, I did meet some other gay men, and we were all deeply closeted. There was no mention of homosexuality on campus, certainly no Carriage House, never an article in the paper about it or anything. When I was in graduate school, there were a series of talks in Houston Hall about social issues. Even then, I was pretty closeted, I went. They talked about race, gender challenges, women's issues, nationality, religion, and homosexuality. Every Wednesday for 6 weeks, these talks happened. I actually went to a few of them because I didn't want anyone to think that I only chose one. But that had such a big impact on me. There were two speakers Barbara's Gittings was one of them. She was a member of the library. She was not a trained librarian, but she was part of a group of lesbian and gay librarians who wanted to get queer books into the libraries and available to people. She was a very smart and dynamic leader; she died some years ago but hearing her speak made a big impression on me. Then there was a gay coffee house for a while in Houston Hall one day a week. That would have been in the late 60s, and it was organized by a graduate student. So there was a little bit of gay aspects kind of sneaking around at that time. Now it's all over the campus and accepted. Probably a few people who are not accepting of it, too…
BRIAR: But they're in the minority– by in large. I think the university is responding to a degree. You know, I'm thinking of Hedwig and the Angry Inch, which is queer– undeniably queer– and it was one of the most popular shows that our theater group did last year. We sort of reveled in the fact that the producer, the director, the music director, the stage manager: we're all queer, and we really reveled in that. I was in a class called Queer Communities at the time, and I'm currently in a class called Queer Studies. It's a class where all we're talking about is James Baldwin, as a single author studies class.
TOM: I wish I could audit that class!
BRIAR: And the professor– the whole underlining cadence of the class is holding James Baldwin as both a black author and a gay author rather than one or the other, which is how often he is described. So this real intention to sort of like foreground these experiences shows that there is there's still space for progress, of course, but there is movement towards the direction that it's headed.
TOM: And you're here at the time that it's happening, which is great.
BRIAR: I'm trying to be a part of it! I'm trying to push for change.