As a component of the University of Pennsylvania, the Lesbian Gay Bisexual Transgender (LGBT) Center recognizes the importance of research to expand knowledge. The Center is committed to protecting human subjects engaged in research conducted or supported by the University and the University of Pennsylvania Health System.
Prior to initiating any research on human subjects at or associated with the LGBT Center, investigators must first obtain the approval of one of the University IRBs through their established policies and procedures. Only research approved by Penn's IRB and the Center's professional staff will be permitted on-site. The exception is if it is a Penn student-based research practicum or directed/independent research project.  To clarify if you qualify for this exception, please see the IRB guidelines. Off-site research soliciting participants via e-mail must also have IRB approval from the researcher's home institution.
For more information on Penn's research policies please go to the IRB web site.
To initiate any research involving the Center or if you have questions, please contact Erin.
Research Participant Opportunities
These studies are not endorsed by the University of Pennsylvania LGBT Center. Studies have IRB approval from University of Pennsylvania and their home universities. The LGBT Center follows strict research protocols.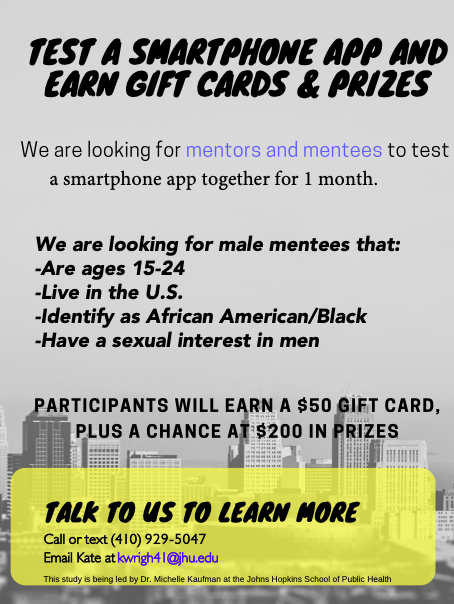 TEST A SMARTPHONE APP AND EARN GIFT CARDS & PRIZES

We are looking for mentors and mentees to test a smartphone app together for 1 month.

We are looking for male mentees that: -Are ages 15-24 -Live in the U.S. -Identify as African American/Black -Have a sexual interest in men

PARTICIPANTS WILL EARN A $50 GIFT CARD, PLUS A CHANCE AT $200 IN PRIZES

Call or text (410) 929-5097 Email Kate kwright41@jhu.edu
Resiliency of transgender students who have joined fraternities and sororities
This study is being conducted by Meredith Bielaska under the direction of Dr. Tara Hudson at Kent State University.
Participation includes:
a video interview with me over Zoom. The interview will last approximately 2 hours in length.
four weekly electronic reflective journal entries.  Each journal entry will take approximately one hour to complete.
For each portion of the research study you will be provided with compensation, up to a total of $20, to be provided electronically through gift cards to the email provided in your participant registration.
Eligibility criteria for this study includes the following:
 Are you currently enrolled as a student at a college or university/ or have you graduated within the last 3 calendar years?
 Are you at least 18 years old?
 Are you currently an active or alumni/ae member of a fraternity or sorority?
Did you join your fraternity or sorority during college?
 Would you describe your gender identity as aligning with any of the following:
transitioning (which refers to the process of changing one's gender presentation and/or sex characteristics to accord with one's internal sense of gender identity),
have transitioned from male to female (MTF) or from female to male (FTM),
identify as transgender (which refers to people whose gender identity  or one's inner sense of being male, female, or something else differs from their assigned or presumed gender at birth)
 If you answered "yes" to the above criteria, then you are eligible to participate in this study.
The research team has also attached the consent to participation form for you to review. If you decide you would like to move forward with participation, we will schedule a short pre-interview meeting for us over Zoom to review the consent form and procedures, discuss the participation timeline, and schedule your interview. If you have any additional questions you can contact Meredith Bielaska at (717)723-8825 or mabiels2@kent.edu.
Intersections of Identity (gender and race and ethnicity) and identity-based experiences and health
"Hello! We are a team of queer and trans-identified investigators at the University of Minnesota's Program in Human Sexuality. We are conducting research on the intersections of identity (gender and race and ethnicity) and identity-based experiences and how that may relate to a variety of health and well-being outcomes among trans and gender diverse (TGD) people. To participate, we are asking you to click on the following link in order to enter a phone number so that we can contact you for a very brief (~1min) pre-screen phone call or text message conversation to ensure that you meet eligibility criteria and to limit access of the survey to bots. After the pre-screening, we will send you a unique link to the online survey that will take approximately 45-60 minutes to complete, though for some it may take less time and for others a little more. You will be compensated $25 in the form of an Amazon e-gift card for completing the survey."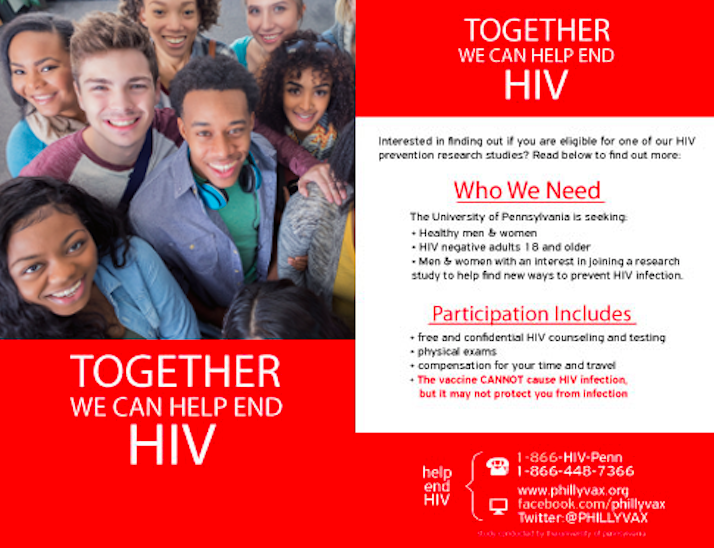 Phase I HIV vaccine study we are conducting here at UPenn. To help end the epidemic, contribute to science, receive compensation, and other personal reasons. Call  (610)324-8943 
Project iMPPACS is a research study that tries to understand the perspectives of Black and African American youth and young adults in Philadelphia in order to make a social media campaign that supports youth to make healthy, informed decisions when having sex. This campaign is part of the effort to end the HIV epidemic, especially in Black and African American communities that are affected most by HIV. Those of all genders and sexual orientations are encouraged to participate.
Participants will be compensated $45
Click HERE to sign up!
Therapeutic writing to enhance body image and well-being among transgender people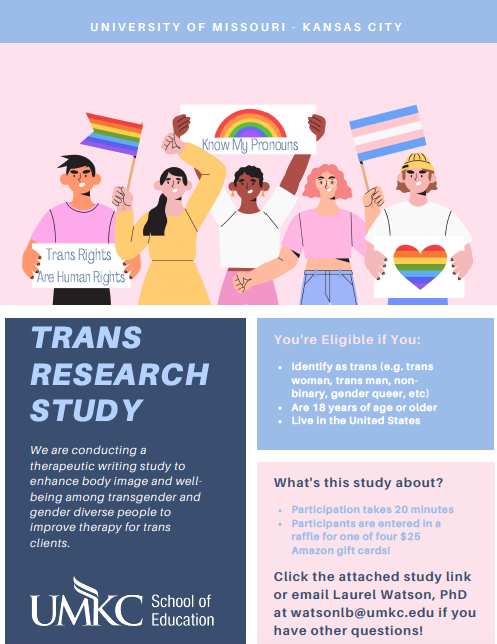 We are conducting research regarding therapeutic writing to enhance body image and well-being among transgender people. In order to participate, you must a) identify as transgender (e.g., trans woman, trans man, non-binary, gender queer, etc.), b) be 18 years of age or older, and c) live in the United States. 
If you are interested in participating, you will be asked to complete a brief (10 to 15 minute) writing task and several short surveys. Your participation should take 20 to 25 minutes, one time only. Participation is entirely voluntary. If you are interested in participating, please click on the following link: 
https://umkc.co1.qualtrics.com/jfe/form/SV_aWQlm0xDEzFK9U1
Or, if you would like further information, please email Laurel Watson at watsonlb@umkc.edu
Once completing the survey, you are eligible to enter a raffle to win one of four $25 Amazon gift cards. This study, protocol number 2016887, has been reviewed by University of Missouri-Kansas City's Institutional Review Board. If you have any concerns about your rights as a participant your concerns please call 816-235-5927
Share your story about being estranged/distanced with a parent or parents because of their gender/sexual identity
Researchers from the University of Washington and La Salle University are recruiting participants. We are inviting participants to share their story about being estranged/distanced with a parent or parents because of their gender/sexual identity. Specifically, we are interested in your experience with being distanced from your parents and how you coped with that distance. This research could help other people better understand and make sense of their difficult family relationships.
To participate in the present study, individuals must meet the following criteria:
Are between the ages of 13-19,
Feel comfortable speaking English,
Live in the United States or Canada, and
Identify as being estranged /distanced from at least one parent because of their sexual/gender identity.
If individuals choose to participate, they will be asked to take a short demographic questionnaire and share their story with an interviewer for about 45-60 minutes via Zoom or phone.
After the interview is complete, participants will be compensated with a $50 gift card that you can use at a variety of businesses of your choosing such as grocery stores, amazon, restaurants, etc.
If you are interested in participating, please contact: Kyle Kubler, at uwcomresearch@gmail.com.
If you have any questions about this study, please contact Dr. Kristina Scharp (kscharp@uw.edu).
Empowering others to make healthy decisions about their sexual health
A team of researchers at the University of Pennsylvania is seeking thoughtful, open-minded participants to join a VIRTUAL Community Advisory Board (CAB), a peer-led group for transgender and gender diverse adults (ages 18-45). This CAB that will give input on research and protocols (how the research is actually conducted). 
As a member of the CAB, you will: 
Work at least 6 hours per month on study-related activities 
Attend CAB meetings and provide feedback on issues under discussion 
Advise the study team on the development and use of study participant recruitment and other study related documents 
Suggest strategies to address ethical aspects of study conduct 
Provide real-life experiences 
Inform the study team about information, misinformation, and/or rumors circulating in their communities about current HIV prevention research focused on transgender and gender diverse adults 
Recruit and orient new CAB members 
Perform other duties as assigned. 
Apply to become a Community Advisory Board member. You could earn between $13-15/hour for your time! 
Application link: https://qfreeaccountssjc1.az1.qualtrics.com/jfe/form/SV_aV2YRa8DOUuXjQG
Transgender Embodied States of Recognition Survey
The "Transgender Embodied States of Recognition" research project explores recognition and experiences using personal identification documentation (IDs) among people 18 years and older who live in the United States. The survey, which may take 10 to 30 minutes to complete, includes questions about your gender identification, IDs and experiences using them, name and pronoun recognition, your transition-related decisions, how you have felt in the past week, and basic demographic information.
https://surveyuccs.co1.qualtrics.com/jfe/form/SV_eD6Qak2L6KL1VDT 
Feel free to email Tre Wentling (twentlin@uccs.edu) with any questions you may have about this research and/or your participation. If you have any further questions regarding your rights as a participant, or additional questions, concerns, or complaints that you would like to address to someone other than myself, please contact the University of Colorado Colorado Springs Office of Sponsored Programs and Research Integrity by phone at (719-255-3321). This research has been approved by the University of Colorado Colorado Springs IRB (reference #2022-003).
As a person who identifies as a man of transgender experience, I am committed to positive research focused on people who gender transition. My goal is to provide information that can be used by advocates who can help improve our lives overall and more specifically in relation to identification documents. One benefit of this research includes contributing to existing gaps in current research. Specifically, I hope to provide more evidence of the diversity among people understood to be a part of the transgender experience and expand understanding of differences related to our everyday experiences.
LGBQ+ POC Stress and Identity Survey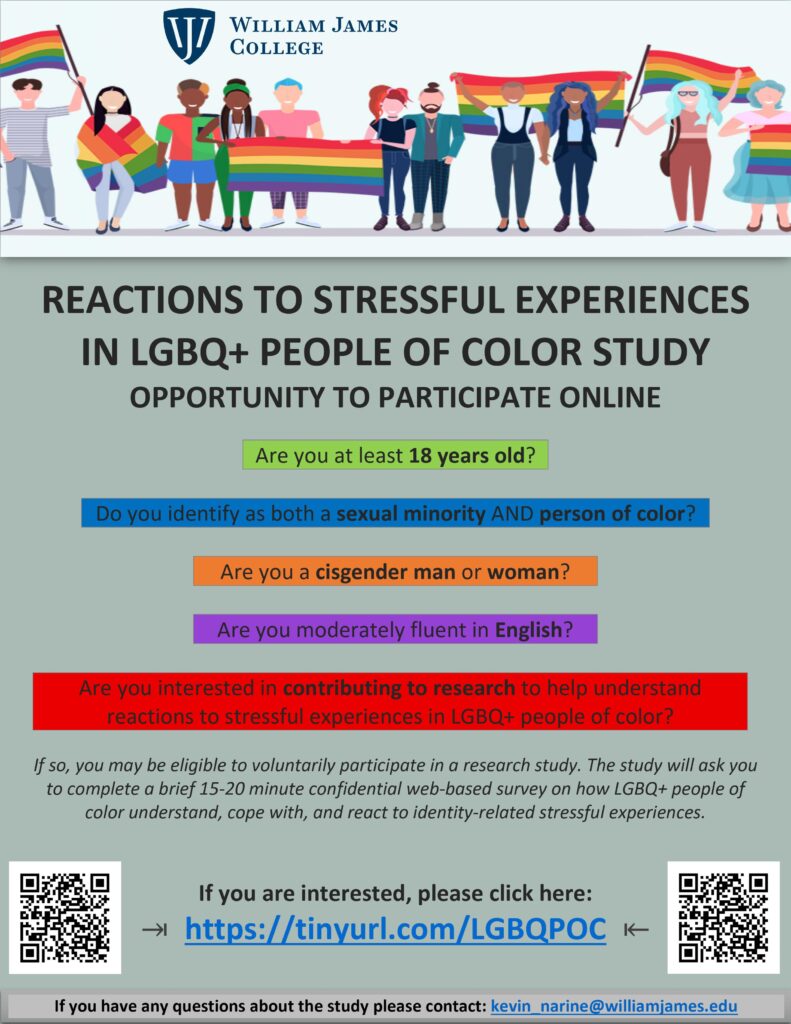 The purpose of this research is to explore how lesbian, gay, bisexual, and queer (LGBQ+) cisgender men and women of color understand, cope with, and react to different types of identity-related stressful experiences. This study may help improve our psychological understanding of the experiences of LGBQ+ people of color. If you are eligible and interested, please click the link below and complete the survey. The study is being conducted by Kevin Narine (he/him/his), a second-year clinical psychology (Psy.D.) doctoral student at William James College and a Penn alumnus, and is entirely confidential.
>>> Click here for study link <<<
You may participate in the study if you:
You are at least 18 years of age.
You are a sexual minority.
You are a person of color.
You are a cisgender man or woman.
You are moderately fluent in English.
If you meet the above criteria, the confidential online survey will take about 10-15 minutes or less. Participation is completely voluntary, and participants can drop out of the study at any time and are free to do so.
Thank you for your time and consideration. Please feel free to contact me if you have any questions or concerns at kevin_narine@williamjames.edu.
This study has been reviewed and approved for use by the Institutional Review Board at William James College (WJC IRB). If you have questions or concerns regarding your rights as a participant in this survey, you may contact the IRB chair, Dr. Brian Ott, brain_ott@williamjames.edu. You may also report your concerns or complaints via email to IRB@williamjames.edu
LGBTQ Identities in Athletic Spaces Research Study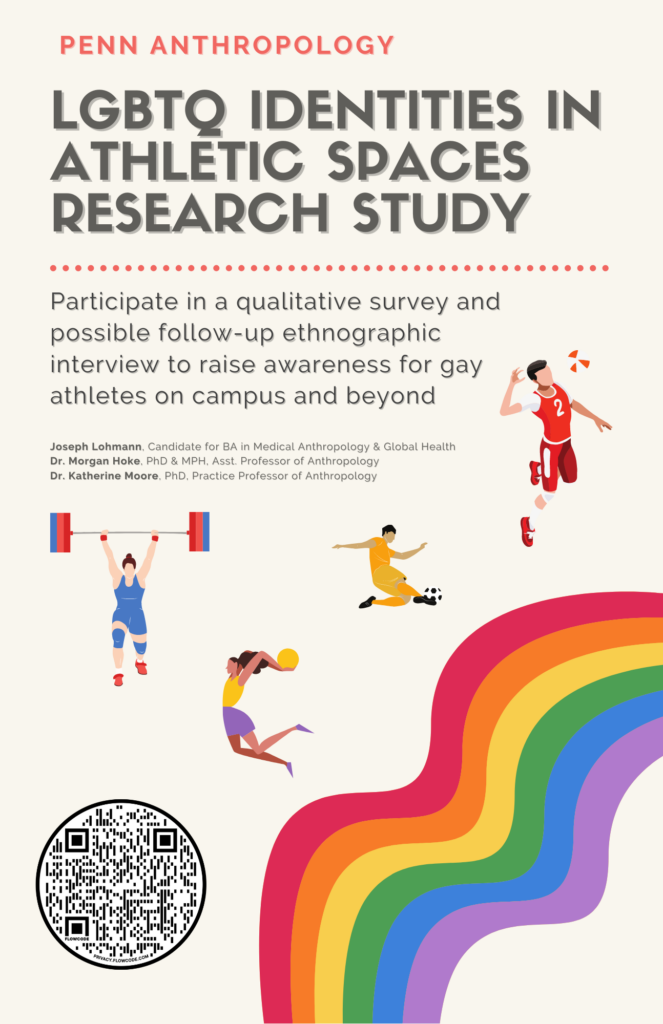 Penn Anthropology is seeking to raise awareness of LGBTQ athletes on campus and beyond. Scan the QR code on the flyer to take a qualitative survey and help facilitate greater knowledge about our community!
Research Study on Leader Development
At LeAD Labs, we are seeking LGBTQ+ leaders to participate in a short survey, or possibly an interview.  Unfortunately, LGBQAP+ people have been largely excluded from research, hindering the progress organizations must make to create inclusive workplaces for all employees.
We have received a donation to fund the study and will be making a $5 donation to The Equality Federation, a non-profit that advocates for LGBT+ people, for every survey that is completed and for those completing an interview will receive a self-assessment and 30-minute coaching session or a $25 gift card. Click HERE for the survey link.
Gay Male Identity in Urban Post-Secondary Education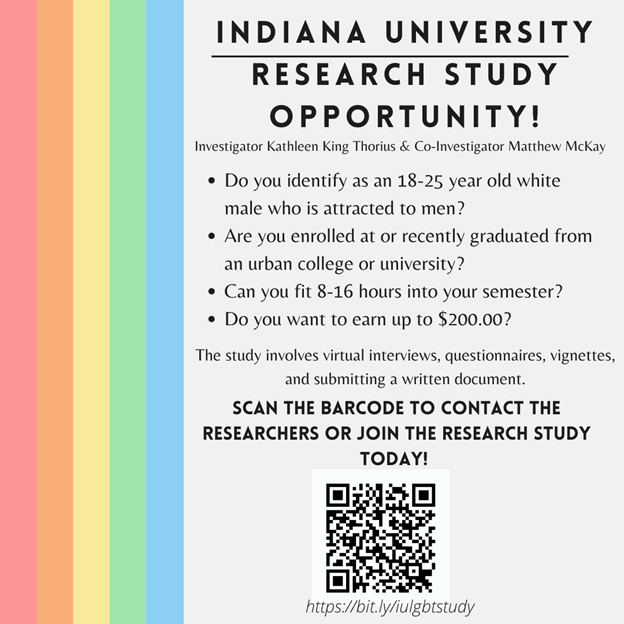 The purpose of this study is to characterize gay males understanding of identity in urban post-secondary education. However, we are not able to provide you with the full purpose of the study at this time but will provide additional information after you finish your study participation.
We are asking you if you want to be in this study because you identify as a college-aged white male who is attracted to men enrolled at or recently graduated from an urban institution. The study is being conducted by Matthew McKay in the Urban Education Studies program at Indiana University – Purdue University Indianapolis under the guidance of Dr. Kathleen King Thorius. You will be one of about 5 participants taking part in this study.
If you agree to be in the study, you will do the following things. Complete the eligibility and screening questions providing demographic information and information about the institution you are currently enrolled. Participate in three zoom interviews focusing on individual experiences leading to the institution, individual identity, and navigating multiple identities to be audio recorded (1-2 hour each), submit a written identity autobiography document (2-4 hours), participate in an audio-recorded zoom autobiography debriefing session (1-2 hour), and participate in one audio-recorded zoom interview (2-4 hours) responding to various vignettes (fictional scenarios) presented by the researcher, totaling between 8 and 16 hours.  
You will be paid for participating in this study. You will be paid $50.00 for Zoom Interviews 1 and 2, $100.00 for Zoom Interview 3, and the Autobiography with Debrief session, and $50.00 for the Zoom Vignette Meeting totaling $200.00 for all study activities. There is no cost to participate in the study.
Power in Bisexual Women's Relationships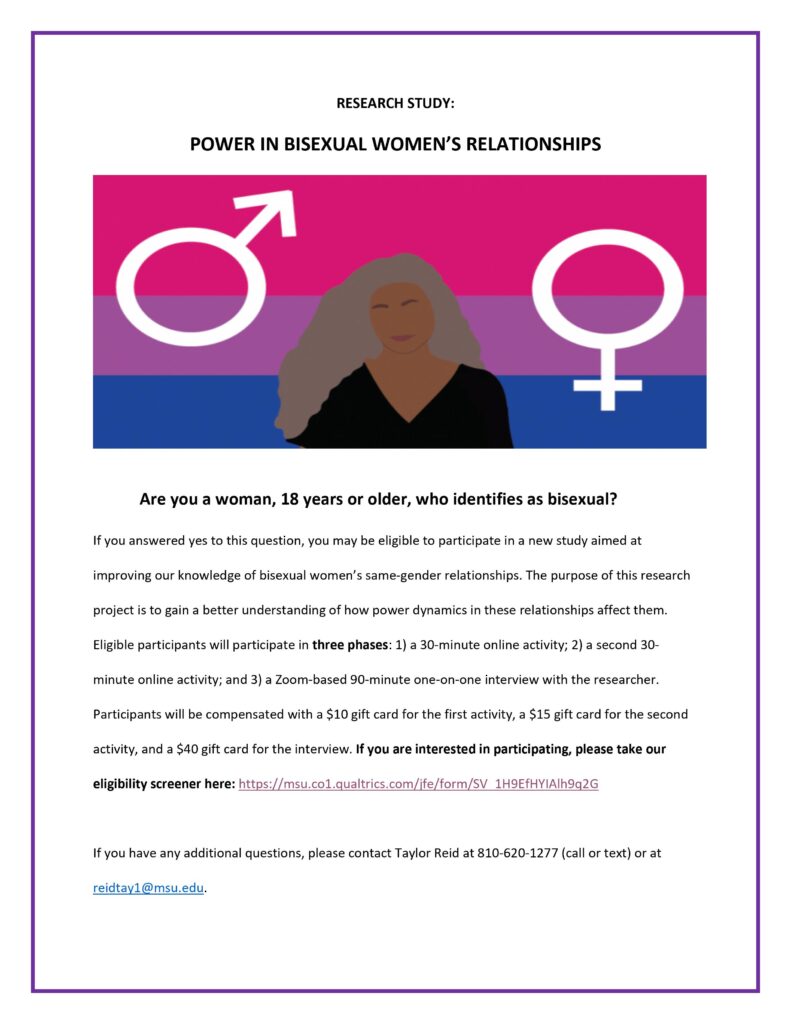 Are you a woman, 18 years or older, who identifies as bisexual?
If you answered yes to this question, you may be eligible to participate in a new study aimed at improving our knowledge of bisexual women's same-gender relationships. The purpose of this research project is to gain a better understanding of how power dynamics in these relationships affect them. Eligible participants will participate in three phases: 1) a 30-minute online activity; 2) a second 30-minute online activity; and 3) a Zoom-based 90-minute one-on-one interview with the researcher.
Participants will be compensated with a $10 gift card for the first activity, a $15 gift card for the second activity, and a $40 gift card for the interview. If you are interested in participating, please take our eligibility screener here: https://msu.co1.qualtrics.com/jfe/form/SV_1H9EfHYIAlh9q2G
If you have any additional questions, please contact Taylor Reid at 810-620-1277 (call or text) or at reidtay1@msu.edu.
Project SMART Youth Advisor Recruitment 2023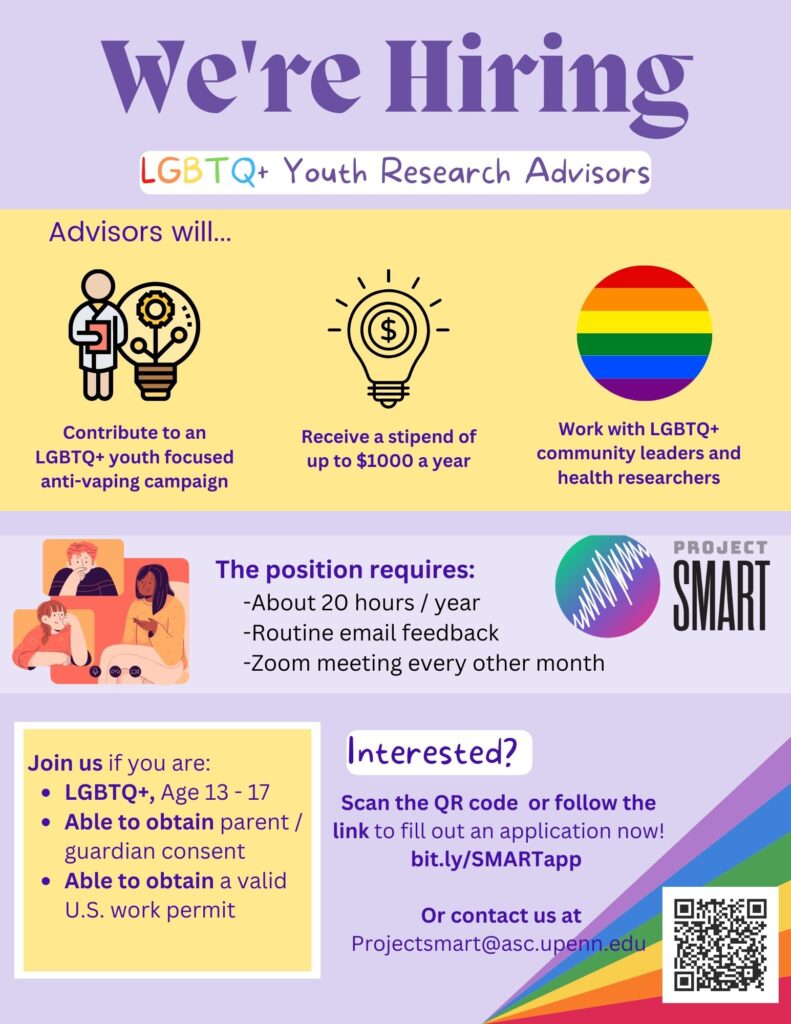 Project SMART is recruiting a new cohort of Youth Advisors for 2023. Advisors will contribute to an LGBTQ+ youth-focused anti-vaping campaign, receive a stipend of up to $1000 per year, and work with LGBTQ+ community leaders and health researchers.
Applicants should be able to work about 20 hours per year, give routine email feedback, and attend a zoom meeting every other month. Those who are LGBTQ+, aged between 13 and 17, and able to obtain parent/guardian consent and a valid US work permit are welcome to apply. Please scan the QR code on the poster to the left if you are interested.
TGNB Photo Study at Lehigh University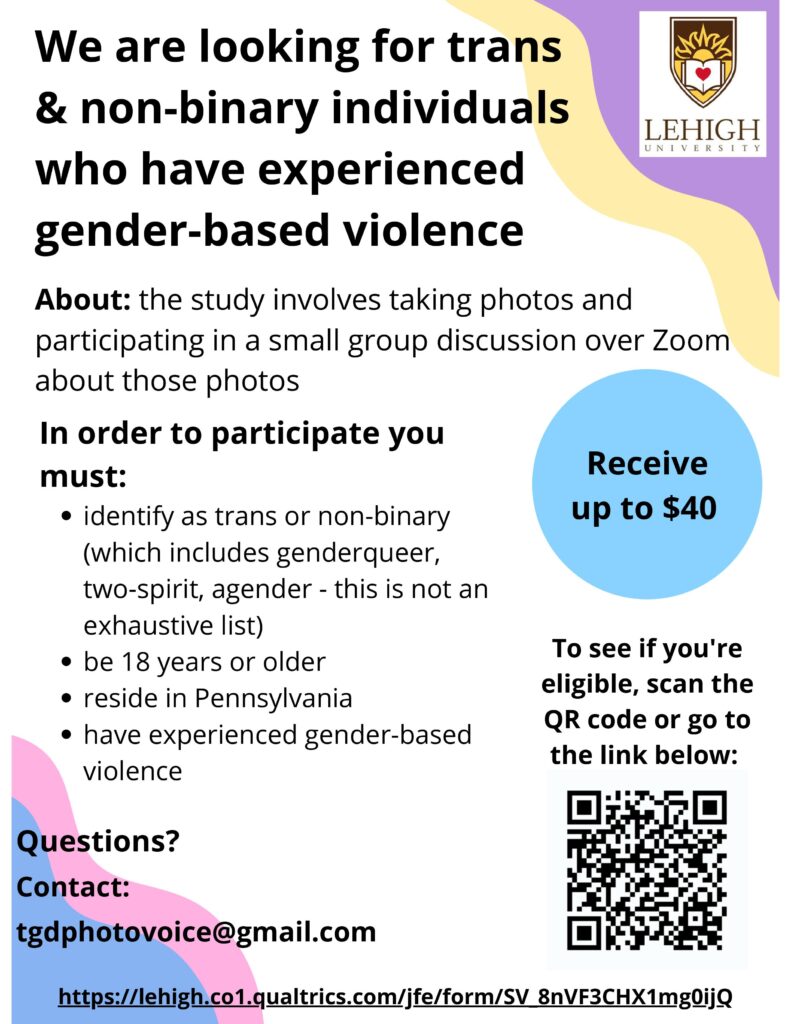 Lehigh University is looking for trans
& non-binary individuals
who have experienced
gender-based violence to take photos and
participate in a small group discussion over Zoom
about those photos. Those who identify as trans or non-binary (including genderqueer, two-spirit, agender), are 18 years or older, reside in Pennsylvania, and have experienced gender-based violence are eligible for the study.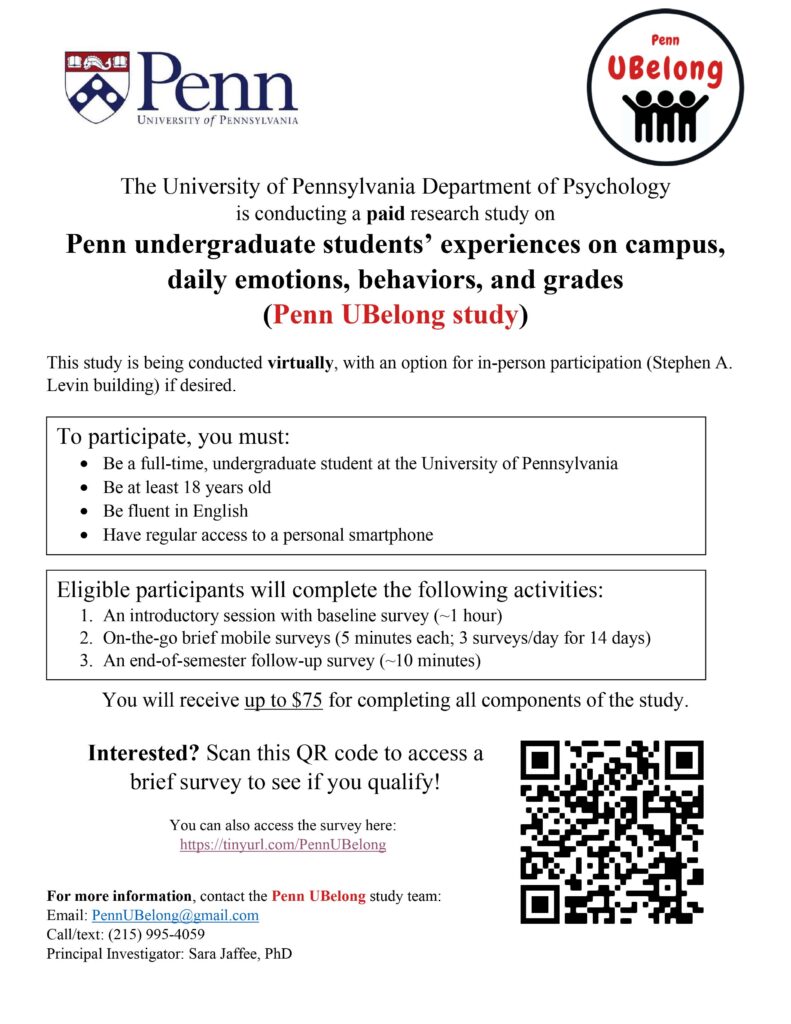 The Risk and Resilience Lab in the Penn Psychology department is conducting a study to understand how Penn undergraduate students' experiences on campus are associated with day-to-day emotions, behaviors, and end-of-semester grades. Please see the flyer to the left for eligibility requirements and how to sign up. You will be compensated up to $75 for completing the study. You may also sign up HERE
Trans and Gender Diverse Justice Study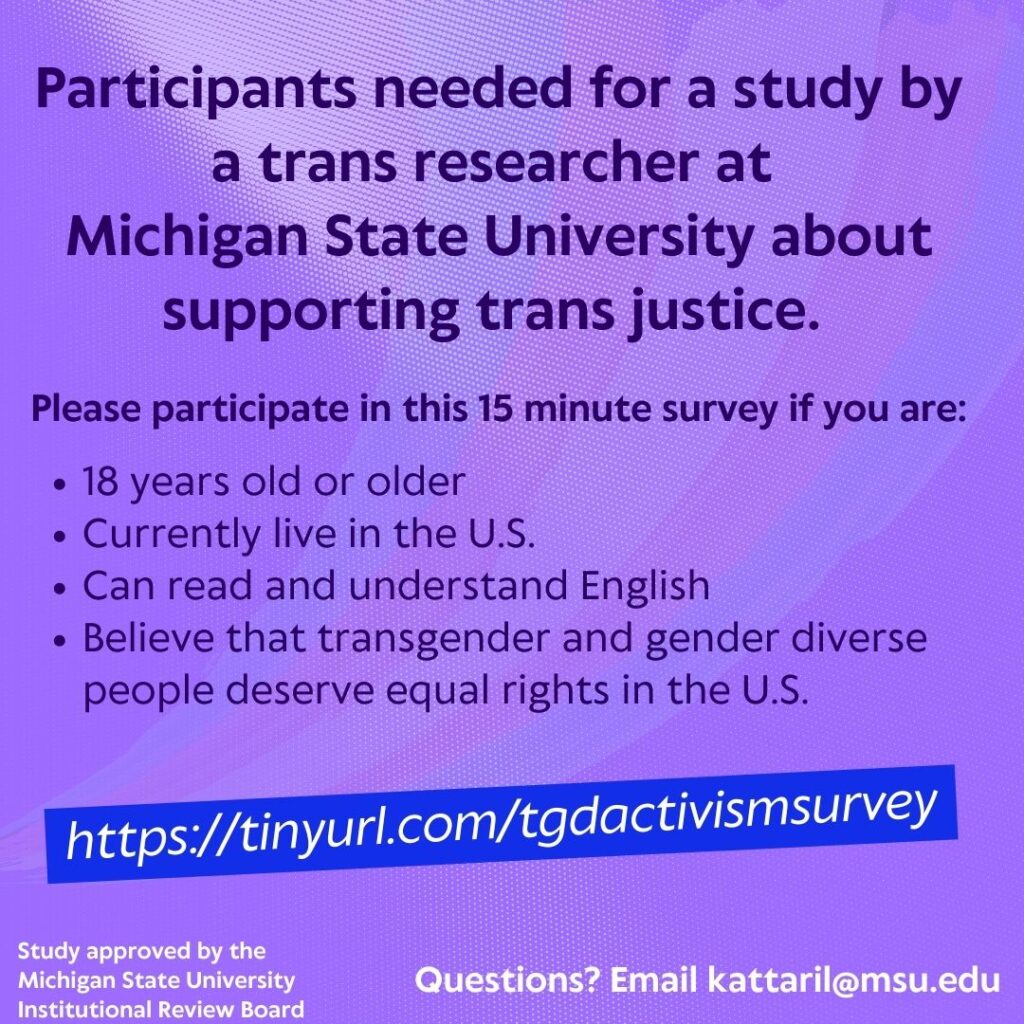 Participation in advocacy, activism, and policy action related to trans and gender diverse (TGD) justice to protect and continue our progress for TGD rights is highly important and impactful. In fact, understanding who participates in TGD justice related advocacy and why, can help us strategize efforts for mobilizing communities and creating change progressing TGD justice. Please see the eligibility requirements to the left. Participation only requires completion of a brief 15 minute survey.
You can access the survey directly at https://tinyurl.com/tgdactivismsurvey.
This survey has been approved by the Michigan State University Institutional Review Board. Please contact me at kattaril@msu.edu with any questions.
3T: Transcend, Triumph, Thrive (CHOP Trans Youth Study)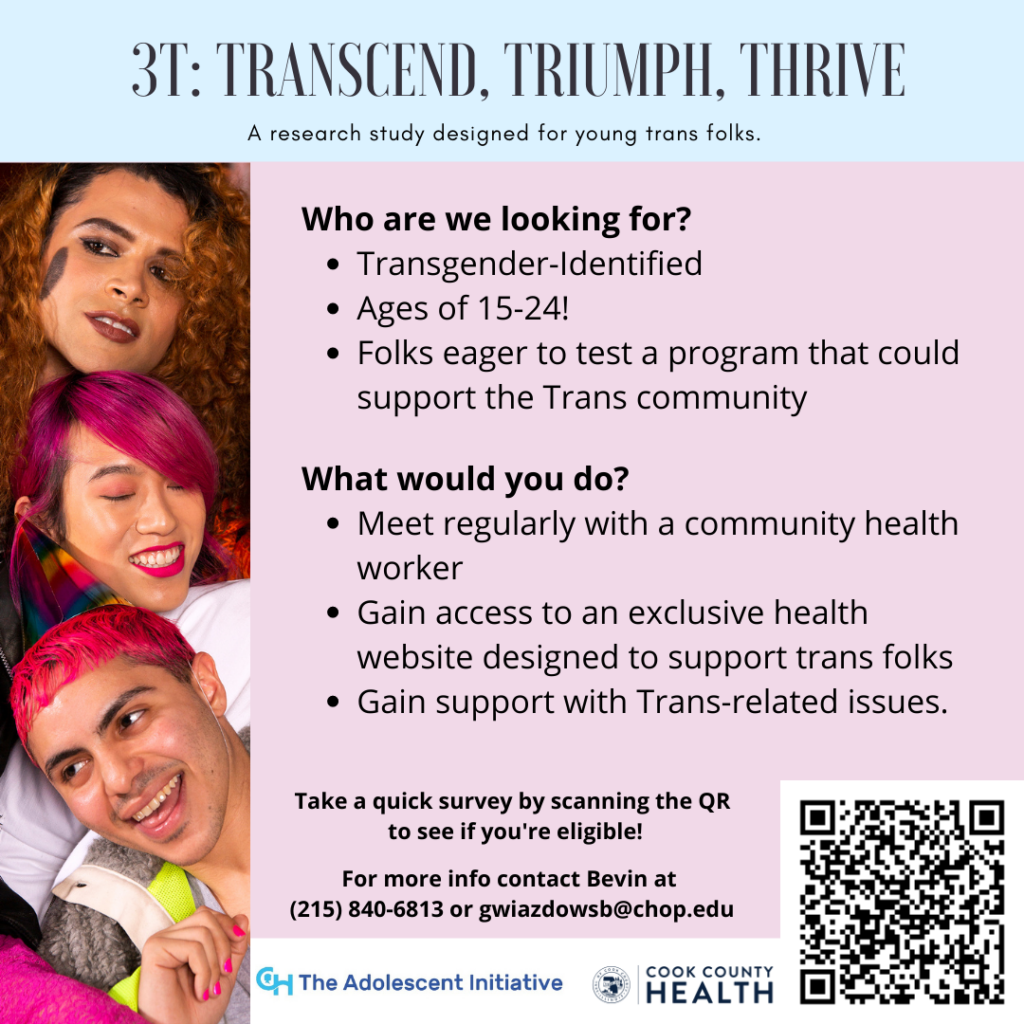 This research study is designed for young trans folks.
Who are we looking for?
Transgender-identified
Ages 15 to 24
Folks eager to test a program that could support the Trans community
What would you do?
Meet regularly with a community health worker
Gain access to an exclusive health website designed to support trans folks
Gain support with Trans-related issues
Take a quick survey by scanning the QR Code on the poster to see if you're eligible! For more information contact Bevin at (215) 840-6813 or gwiazdowsb@chop.edu.
The Emerging Adult Inventory of Minority Stress Study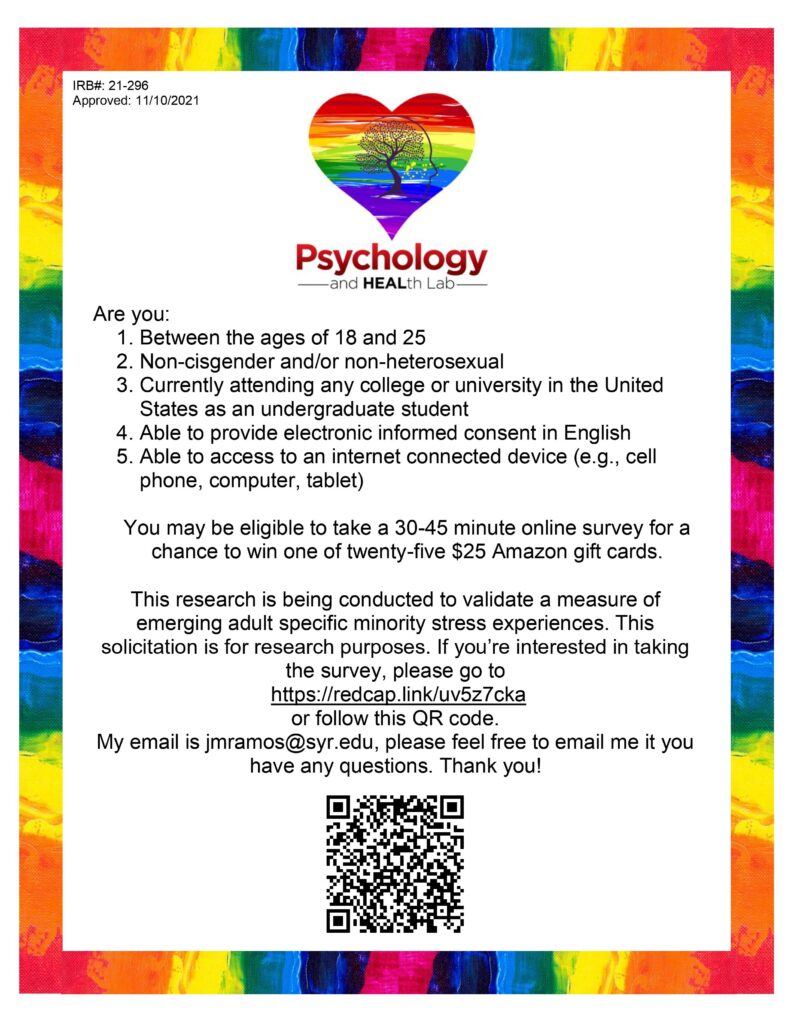 My name is Jeremy Ramos, and I am PhD student in Clinical Psychology at Syracuse University.
I am a transgender man, and I am interested in understanding how LGBTQ emerging adults
experience minority stress. I'm currently validating a measure of emerging adult specific
minority stress experiences.
You will be asked to take a 30-45 minute online survey for a chance to win one of twenty-five
$25 Amazon gift cards.
To be eligible you must be:
(1) Between the ages of 18 and 25
(2) Non-cisgender and/or non-heterosexual
(3) Currently attending any US college or university as an undergraduate student
(4) Able to provide electronic informed consent in English
(5) Able to access to an internet connected device (e.g., cell phone, computer, tablet)
This solicitation is for research purposes. If you're interested in taking the survey, please click on
this link (https://redcap.link/uv5z7cka). My email is jmramos@syr.edu,
please feel free to email me it you have any questions. Thank you!
Experiences of Gender and Pronouns Study
We at Case Western Reserve University want to hear about your experiences with gender and identity. If you are over 18 and would like to help, follow this link to fill out a 35-45 minute survey about your experiences and perspectives. To thank you for your time and participation, you will have the opportunity to enter a raffle for one of five $20 Amazon Gift Cards! Please follow the link in our bio or go to bit.ly/gender23 to participate!
We are conducting psychological research on self-compassion as a protective factor against anxiety produced by sexual minority stress. The purpose of this study is to better understand the stress associated with being LGBP in efforts to help sexual minority identifying people manage it. Those who are over the age of 18 and identify as lesbian, gay, bisexual, or pansexual (LGBP or non-heterosexual) are welcome to participate. 
The survey should take around 10 minutes and is anonymous. The link to the survey can be found HERE.